I am participating in this giveaway on behalf of Bloggin' Mamas.
So I loooooove Little House and always have! My mom and I read the book together and I've been a hardcore fan ever since. In fact all my doll house dolls were named Ma, Pa, Mary, Laura, Nellie, Roy & Almanzo. Now that Amber and Tyler are old enough we've been reading the Little House series for bedtime stories and they are loving them as much as I did! So far we've made it through Little House in the Big Woods and Little House On the Prairie.
To cel­e­brate the launch of the offi­cial Lit­tle House on the Prairie® web­site, I have joined some of my fellow Bloggin' Mamas to offer the Ulti­mate Prize Pack­age Giveaway (ARV $164).
The winner will receive Sea­son 1 Deluxe Remas­tered 6-DVD Set $29.98 Retail Value, Sea­son 2 Deluxe Remas­tered 5-DVD Set $29.98 Retail Value, Sea­son 3 Deluxe Remas­tered 5-DVD Set $21.98 Retail Value, Sea­son 4 Deluxe Remas­tered 5-DVD Set $21.98 Retail Value, Pio­neer Girl Book and Tote Bag $39.95 Retail Value, "Lit­tle House on the Prairie: The Legacy of Laura Ingalls Wilder" $19.95 Retail Value
You can also enter a 2nd giveaway on the Little House on the Prairie website for a chance to win a second prize package.
This giveaway is running Friday, March 27th, 2015 at 12:01am PST through Friday, April 24th, 2015 at 11:59pm PST It is open to US Residents age 18 and older. Enter via the rafflecopter form below.

Dis­clo­sure: This giveaway is coordinated by Bloggin' Mamas and is sponsored by Little House on the Prairie. I was not compensated for sharing this post.
I participated in an Influencer Activation on behalf of Influence Central for GoodNites* TRU-FIT*. I received a promotional item to thank me for participating.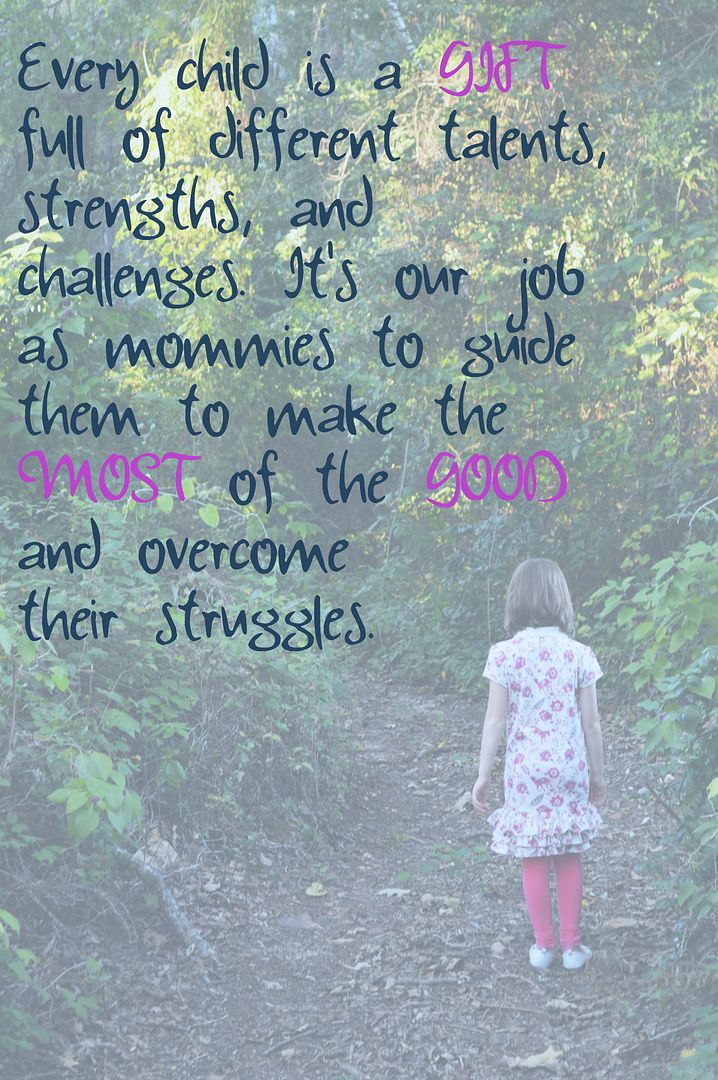 As a mommy of two it's amazing to me how totally different my children are from one another! One loves to sit and do "school" for fun and was writing out the alphabet by age 2, the other has to be bribed into sitting still long enough to go over the ABCs–although he could tell you all about different animals habitats, features, and what predators they have to watch out for.
So if you know me at all you know that I am a HUGE time fan of Lord of the Rings–they're my favorite movies ever! So I have thoroughly enjoyed The Hobbit movies — The Hobbit: Battle of the Five Armies definitely made me cry–both because of the movie itself (tear jerker warning!!) and also because it's the last in the series they can do.
Because of that I just HAD to offer you this giveaway and quiz–be sure to take the quiz and tell me what your middle earth weapon of choice is! Mine came as no surprise–but you have to go enter the giveaway to find out what answer I got!
This shop has been compensated by Collective Bias, Inc. and its advertiser Energizer. All opinions are mine alone. #BringingInnovation #CollectiveBias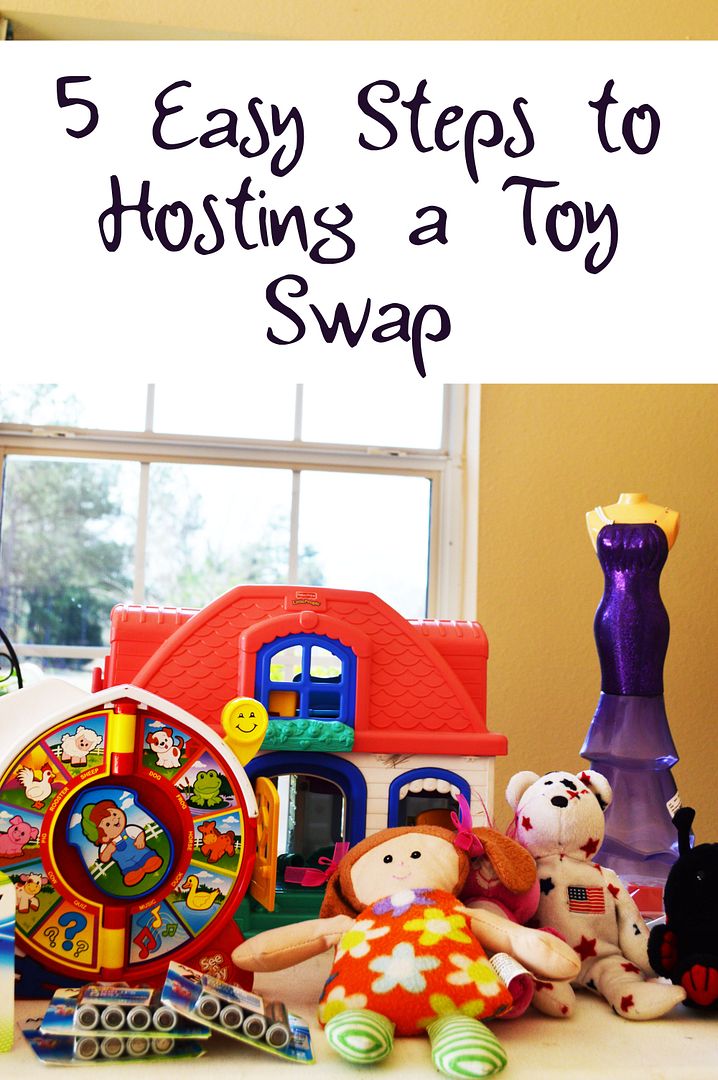 So after months of drizzling rain, cold, and colds here in East Texas the past few days the temperature has raised and with it so have our spirits! This week signals the beginning of spring and it's finally starting to actually feel like it around here! With Spring always comes the urge for Spring Cleaning—and since I actually don't really like to "deep" clean but I loooove to organize it means for me that it's time for a yearly de-clutter session!
This shop has been compensated by Collective Bias, Inc. and its advertiser SoftSoap. All opinions are mine alone. #FreshAndGlow #CollectiveBias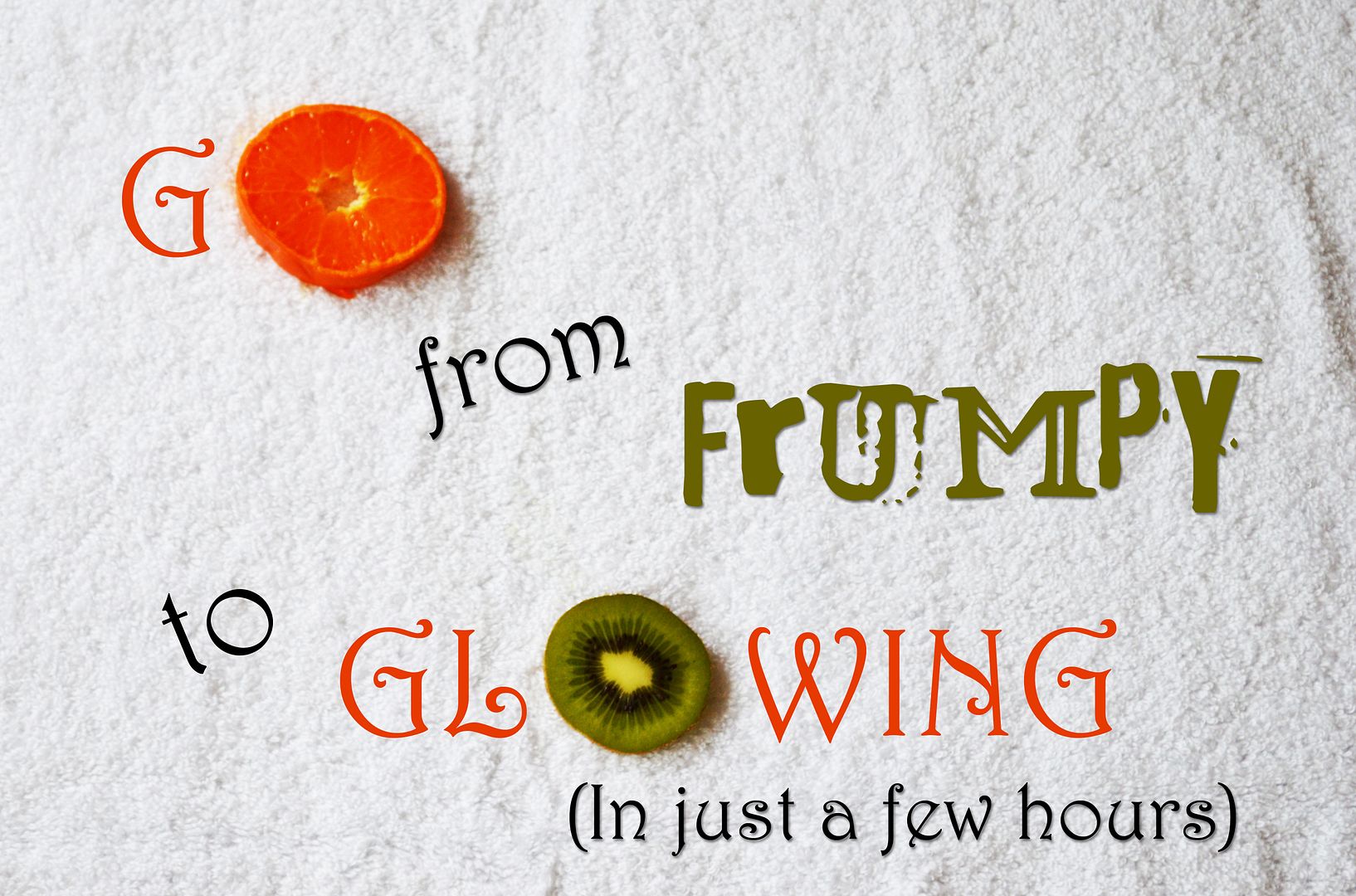 I'm not sure if it was the weather, getting over a lingering cold, or just that March is always a drab sort of time of year, but over the past several weeks I've felt super frumpy! I knew that I needed something to shake me out of the blahs, and I have a sneaking suspicion you might too! Luckily I knew just the thing that would work, and am feeling soooo much better that I just couldn't keep it to myself. Here's what to do!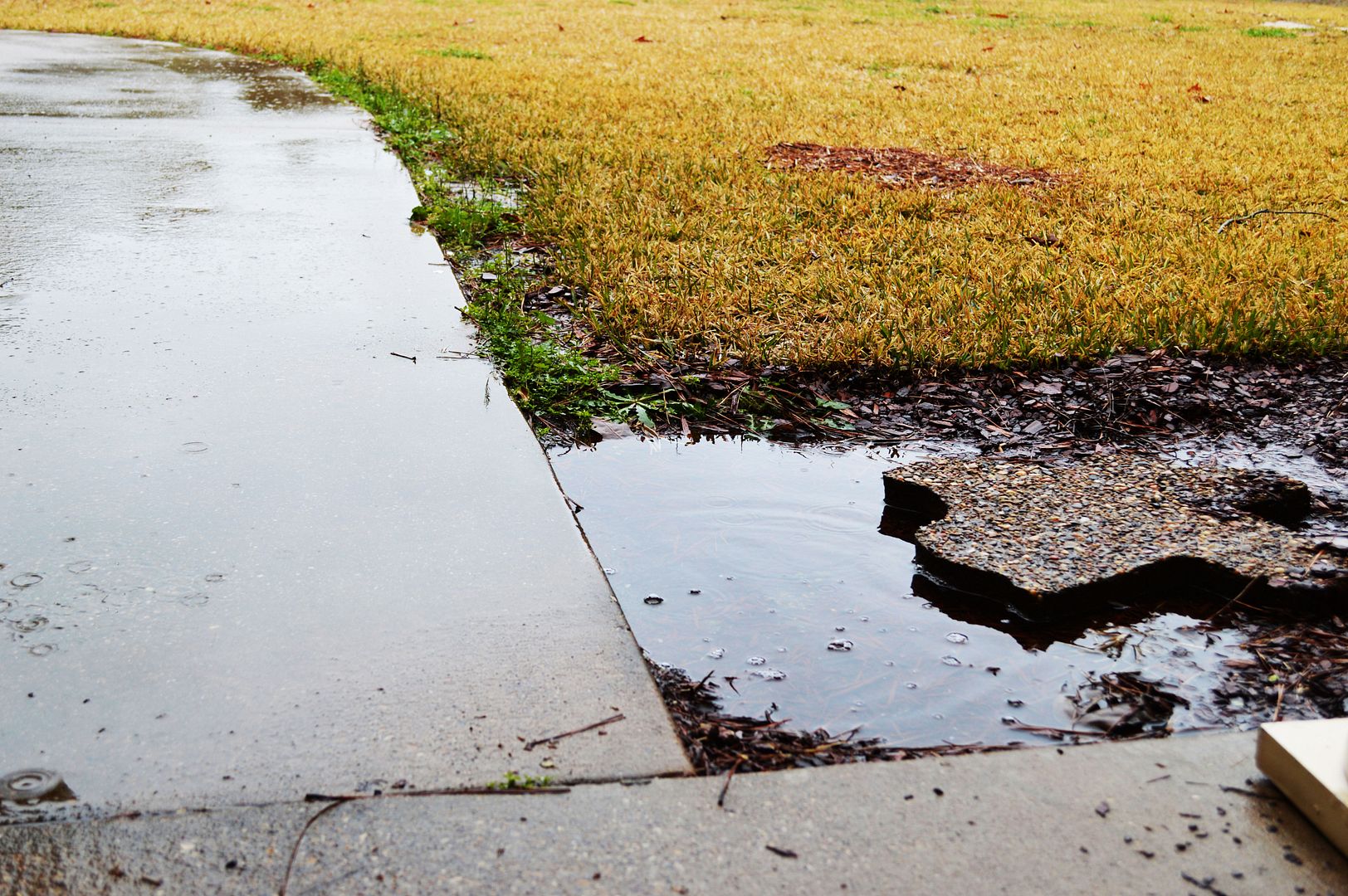 Go from Frumpy to Glowing (in just a few hours)!
Stock up on some pampering supplies If you don't already have these things lying around at home your first stop should be to Walmart to pick them up! You'll need the following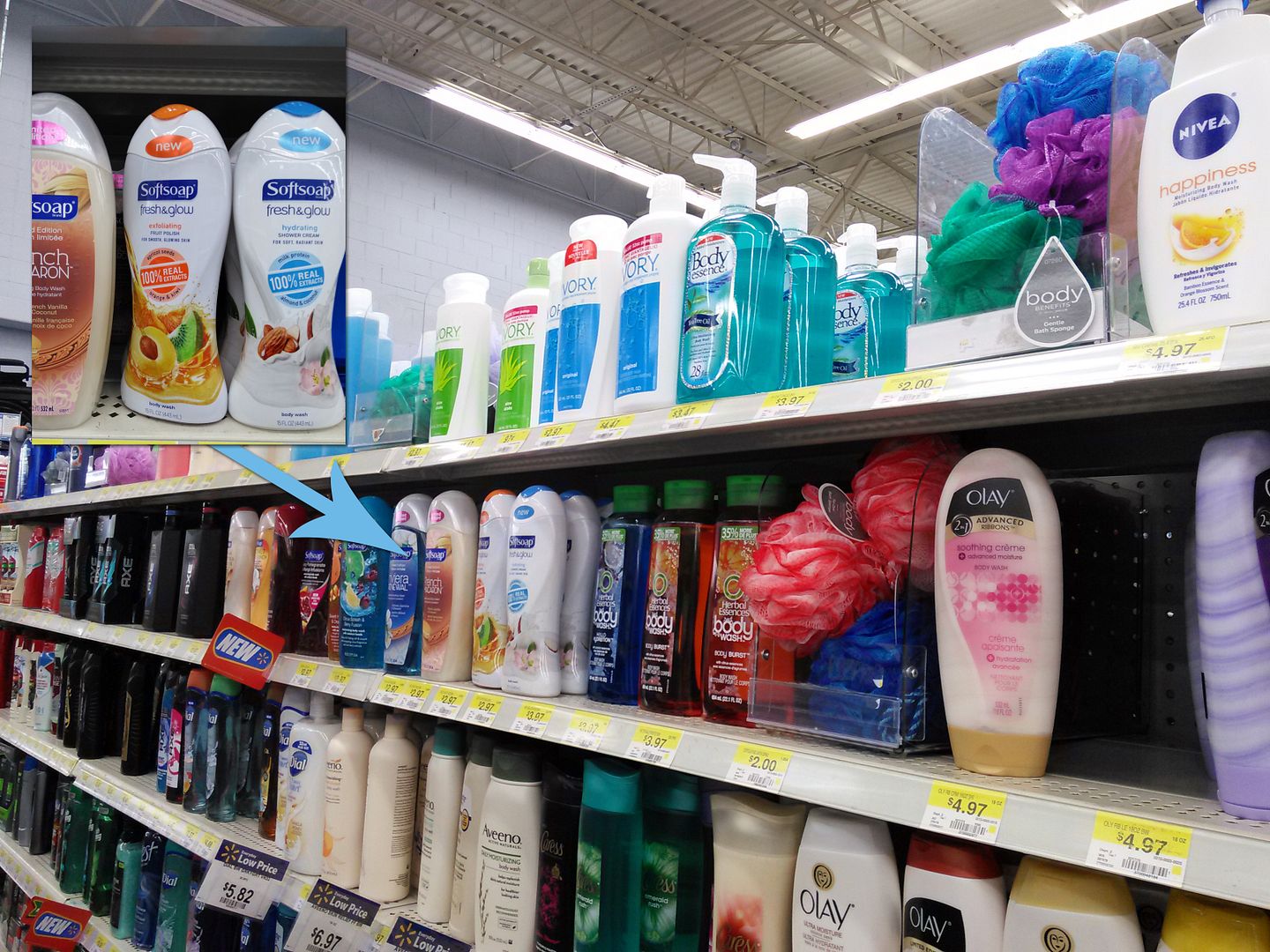 Your Favorite Lotion
Candle
Reading materials
Supplies for a pedicure
Now, I'll admit that when it comes to bath and body products I'm a bit of a snob. I loooove the high quality kind of body wash & lotion that you usually can only find in the specialty stores at the mall that only carry that kind of product. That's why I was so shocked when a few visits home ago my Mom asked me if I had tried any of Softsoaps new high end body washes and she claimed they were as good as my specialty store's. I was super skeptical, so she let me try hers during our visit, I was sold!! It really was as rich, creamy, and foamed up just as well as my $20 bottle brand–and she'd only paid $3 for hers!!
When I saw that they'd just come out with 2 new body washes I couldn't wait to try them out–especially since both contain 100% real extracts. I've already confessed to you my love of all things exfoliating, and I thought the new Softsoap Fresh & Glow Exfoliating Fruit Polish would be perfect for a much overdue pedicure with its Apricot Seeds, Orange & Kiwi for smooth, glowing skin–my legs and feet can always use a little extra love!
Now that was taken care of I knew that a loooooong, luxurious bath was also in order, and so I also picked up Softsoap Fresh & Glow Hydrating Shower Cream. When it's not raining (or snowing!) this winter it's been extremely dry, and my skin and hands have been feeling a bit dull and parched, which is unusual for me! Milk Protein Almond and Coconut was just what my skin was calling for, since the benefit of the hydrating is that it is proven to lock-in long-lasting moisture! Now that you have all your handy supplies it's time for the next step, and it's a big one! Get a Fab New Haircut You can do this at Walmart, or your favorite salon, but nothing quite helps shaking the frumpy feeling like a fresh hairstyle and blow out does! Hop onto Pinterest and find a fabulous style and set up your appointment for ASAP. Then dub that "Glowing Day" and get ready to get pampered!
After your hair is cut and you're feeling fabulous (don't forget the mandatory selfie! It's a huge non-frumpy ego booster to get over 80 likes on it, my friends are the best!!!!) Now go on home and get ready for the next step of pampering.
Take a Nice, Looooooong, Soaking Bath
Grab a great book or magazine, a scented candle, and your Softsoap Fresh & Glow Hydrating Shower Cream and settle in for a long, relaxing, soothing soak. (or grab some music and hop in and take a long, hot shower, for my shower loving friends.) Before you settle in, however, be sure to also grab all the supplies you'll need for your pedicure, too, you'll see why in just a bit!
If you have little ones I'd recommend doing this either after they go to bed or at least put a movie on for them–hearing little voices yelling at the door every 5 minutes when you're trying to relax is NOT conducive to glowing!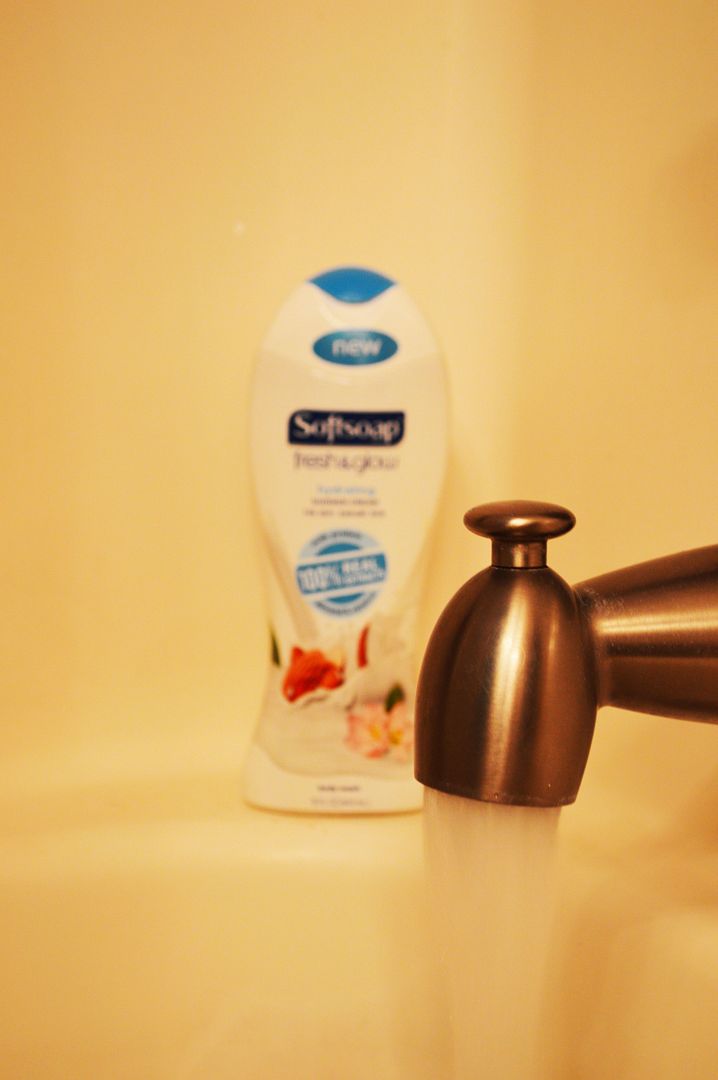 Give Yourself a Long Overdue Pedicure
Before you drain that tub wait just one second! Wrap yourself up in your biggest, fluffiest towel and sit on the edge of the tub and give your feet and legs a good scrubbing with Softsoap Fresh & Glow Exfoliating Fruit Polish. Then towel them off, put your very best lotion on, and give yourself a pedicure that will make you smile every time you look at it! Voila!!! You are now feeling and looking 100% Gorgeously Glowing and no long Frumpy! Do you have anything you do differently to shake off the frumps and get glowing? Tell me about it in the comments!
Ever since Amber first announced, in a slightly freaked out voice, that one of her teeth was wiggling I've been in full on tooth fairy mode! It seems like since the first one fell out there has been a non-stop procession of one tooth or another who is hanging on by a thread or popping out, and in Amber's case it's nearly every time been in some weird location and in some weird way! She lost one by spitting it out into the sink while brushing, another while biting into a hot dog in a restaurant and another in pancakes at a restaurant!  Through all these teeth adventures I've learned that being a tooth fairy is a bit more tricky than it might first seem. In fact I made this confession to you once before in The Tooth Fairy Is Tired. I've learned a few tricks along the way, though, and so today I wanted to share them with you!
Legalese Nonsense: One of the kidlets will get to attend this soccer camp thanks to British Soccer Camp and USFamilyGuide, and you get to get some brilliant ideas and get ahead of the schedule with this post. I love it when everyone wins!
So I don't know about you—but this is what we did today!
Since even here in Texas we're enjoying snow days all week long, you might be wondering why I'm jumping ahead of myself and talking about summer. (although for those of you in the Northeast who have had major blizzards all winter you're probably thinking about, or at least dreaming of, summer right now too!)
That's not the reason I'm putting it on my to-do list for this week, however. Now that Valentine's Day and Amber's birthday are over the next big events on the agenda are Spring Break and Easter. And I don't know about you but it seems like every year after Spring Break rolls around I blink and it's summer! Every year I have great intentions of signing the kids up for sports camps, and then I always miss the discount for early registration, or by the time I look into it they're full, or we've already planned a vacation that week.
This shop has been compensated by Collective Bias, Inc. and its advertiser. All opinions are mine alone. #OpticSmiles #CollectiveBias
I think that every woman is beautiful in her own way and for her own reasons. I also think, however, that we can and should enhance every bit of that! You already know what a huge fan I am of makeup, but I know many women aren't, and I do think that many times some of our most powerful ways of playing up our beauty have nothing to do with makeup, so today I wanted to share with you some of my "secret weapons" that I use to help play up my own version of beauty!
Become Even More Gorgeous by Adding These 4 Steps to Your Beauty Routine (that have nothing to do with makeup!)
1. Get Your Teeth Sparkling White As an avid coffee drinker I'm always battling stains and yellowing on my teeth. There's no way I'm giving up my four cups a day, however, and so the best option for me is to use other methods to get my smile looking gorgeous.
While I was perusing the toothpaste aisle to stock up lately my eye was caught by the pretty, red boxes of all the Colgate® Optic White® toothpastes. While many of them looked great the Colgate® Optic White® Express White Toothpaste caught my eye because it promised whiter teeth in just 3 days, just by brushing (perfect for this busy mom who has no time to hassle with the other whitening treatments out there). When I picked up the box I learned that it has 2 times more of the professionally recommended whitening ingredient (vs. Optic White Sparkling Mint TP).
I decided to put it to the test–I was a little skeptical about seeing differences in just three days, and decided to take before and after pictures to see–for just 3 days I'm very happy with the results!
Interested in trying it out for yourself? There will also be a roaming demo in 550 stores on 2/28/15 to promote the new product. Ambassadors will be roaming aisle giving out $1 off coupons good on Colgate® Optic White® Express White Toothpaste. Check here to see if your local Walmart will be one of the select stores!
2. Keep Your Lips Smooth & Soft I often play up my eyes and skip lipstick, but even if you're not using makeup on your lips they're a part of your face you should never neglect! Especially once your teeth will be gorgeous and white with your new toothpaste and this part of your face will be getting a lot more attention!
I take care of my lips by using a chap stick daily, especially during the winter when it's a lot dryer and with all the indoor heat. To combat any chapped lips that you do end up with you should "exfoliate" your lips about once a week either with an old toothbrush or a washcloth–just wet and rub all over your lips–it'll gently peel off old skin and leave you with gorgeous, soft, supple lips!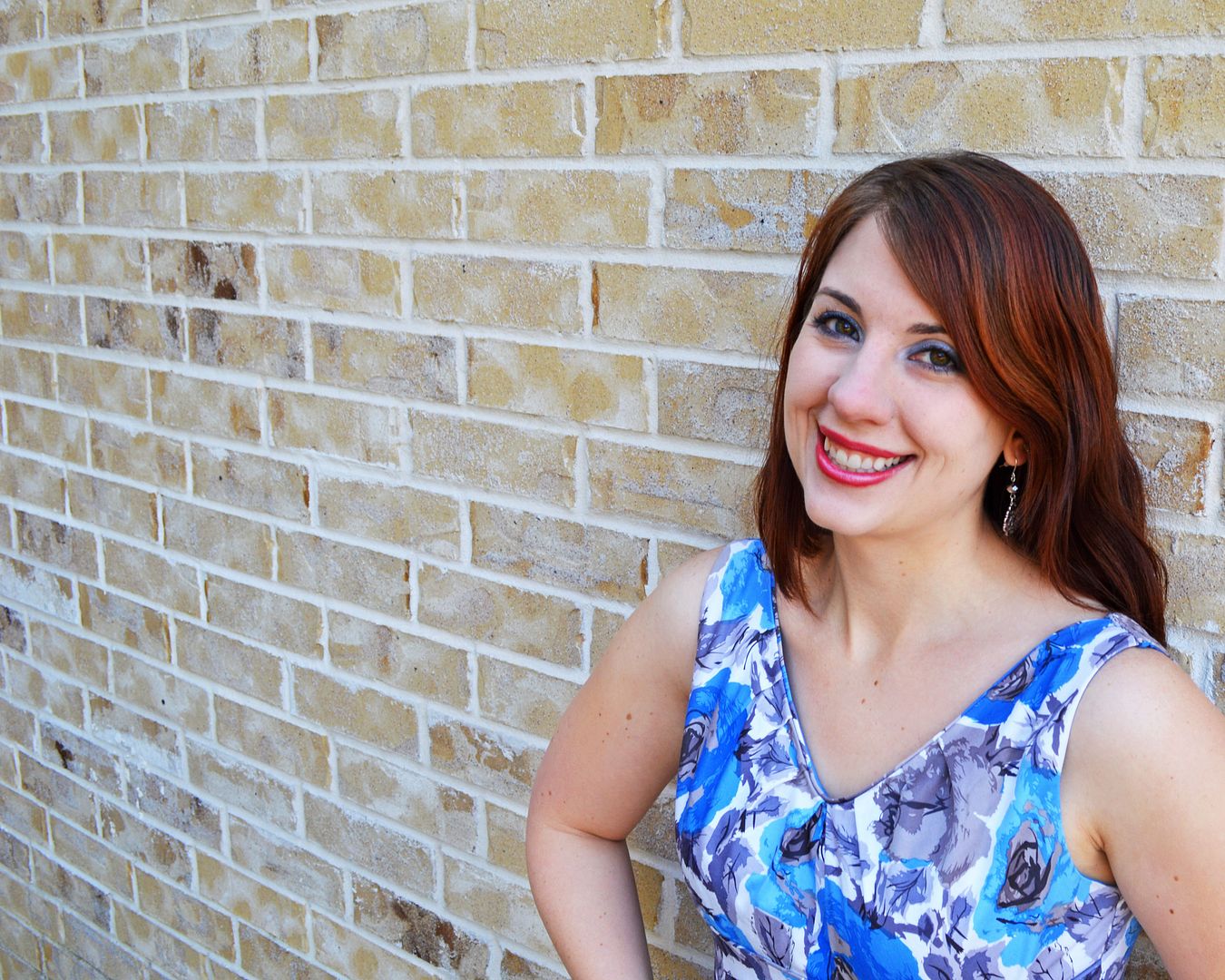 3. Curl Your Eyelashes! This is another step that you might do in conjunction with makeup–but don't have to! Eyelash curlers are inexpensive and instantly make your eyes look larger and wide open! They're one of those things that if I could only bring a few things with me to a deserted island, I'd pick!
4. Wax & Tweeze Your Eyebrows (and possibly the rest of your face, too). Part of my beauty is my super thick, pretty hair. However when you are blessed with super thick, coarse hair it isn't *just* your head that's "blessed" with it! If you have light, thin hair waxing or tweezing might be something that you don't even have to think about, however, if you're like me it is something that you absolutely should do! I used to have big, thick, "catterpilar" eyebrows and fuzz everywhere else all over my face. No good! Thankfully I discovered the wonder that is getting my face waxed at a Spa or Nail Salon. Just about any of them offers the service and trust me–one "big" hurt with waxing beats a million little "ouches" with tweezing at home (though I do tweeze in between visits). I've actually gotten tons of compliments on my gorgeous eyebrows, thanks to taking care of them!
There you go–my 4 best Beauty Tips that don't involve makeup! What secret weapons are in your Beauty Arsenal that have nothing to do with makeup? Let me know in a comment!
This shop has been compensated by Collective Bias, Inc. and its advertiser who offers Unlimited Talk Text and Data/Web. All opinions are mine alone. #MaxYourTax #CollectiveBias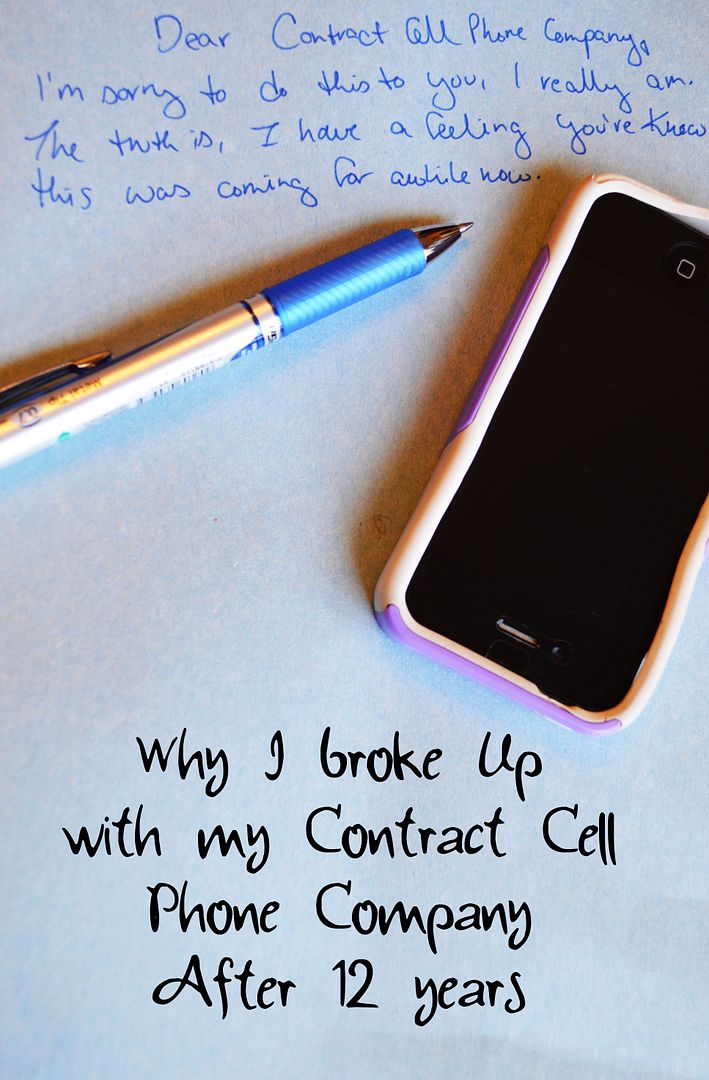 Dear Contract Cell Phone Company,
I'm sorry to do this to you, I really am. The truth is, I have a feeling that you knew that this was coming for awhile now. I mean, my hubby already broke up with you awhile ago, and I even encouraged my sister to dump you. Since then I talked my younger brother and sister-in-law to cut ties as well. In spite of this I've held out, the longest, clinging on to the good times and memories of what we once shared together; but now it's time that we have to call it for what it is, and let each other go our separate ways.
To be quite honest, it's not me, it's you, but as you might have guessed the main reason is that I've met someone new. Just like my husband I met Walmart Family Mobile and the  ZTE ZMAX phablet in, well, Walmart (what can I say? It seems to be where I fall in love). With their good looks and flashy low prices I couldn't help but stopping and gazing into their options for awhile. You know you just haven't been meeting my needs lately–all those high prices and a glitchy phone far before my "free" upgrade rolled around (Oh yeah, something I've been wanting to tell you for awhile–calling an upgrade "free" and then charging me an activation fee is kind of a jerk move, I'm just saying. Walmart Family Mobile requires a $25 activation card, but at least they're honest about it).
These guys looked like everything I'd ever dreamed of–ridiculously better on my wallet than you, and a whole lot bigger and stronger than you, too. When I gazed into the super big screen of the ZTE ZMAX  on roll back for $179.00** that offers Walmart Family Mobile's new 4G LTE Speeds at just $29.88/month (for the first line) which gives me Unlimited Talk, Text & Data service plan which includes up to 500MB, I began to compose this Dear John letter to you in my mind. If I hadn't been wanting a tablet lately I might have considered the ZTE Zinger which made my penny pinching heart pitter-patter just a wee bit with it's crazy low rollback price of $19.84**. But I knew that I would be happier with the ZTE ZMAX in a long term relationship, and so picked him and and took him home (just to get acquainted, you know I'm a proper lady).
You see, the timing is really perfect, I wanted to wait till after Valentine's Day to dump you (because I'm not that heartless) and, well, to be honest now it's Tax Return season and what could be more perfect than to use my return from last year for a perfect tax write off for next year? You've been with me so long that you must know how I reason by now.
Sure enough Walmart Family Mobile was a perfect gentleman when I got them home, and activating my new relationship err, phone was easy as can be, no waiting in long lines and haggling with salesmen while children bounced off the walls like what you subjected me to every time we got an upgrade together.
The better we got to know each other the more compatible I could see we would be–my new phone is big, bright, and beautiful, and the fact that it's Android and plugged in with Google (which my life revolves around on a continual basis right now) was just one more reason to get serious with him, and to dump you along with my non-android-several-models-back-phone that the top button hasn't worked on forever.
I guess I'm just saying all of this because I want you to be happy for me, and for you to go on and live your life and be happy with those poor customer's you're still duping. I know you'll be seeing me around with my new partner, and as you see me tapping the screen and smiling I just want you to know–this was best for both of us.
Ok, ok so it's the best for just me, but I'm alright with that.
Sincerely,
Your Ex Customer Nicole
**Disclaimer: All prices for phones and plans included in this post are accurate as of the date of this posting; however, these prices are subject to change. Please refer to http://cbi.as/aafid or your local Walmart for current pricing.
This shop has been compensated by Collective Bias, Inc. and its advertiser Müller® Ice Cream Inspired Yogurt. All opinions are mine alone. #MullerMoment #CollectiveBias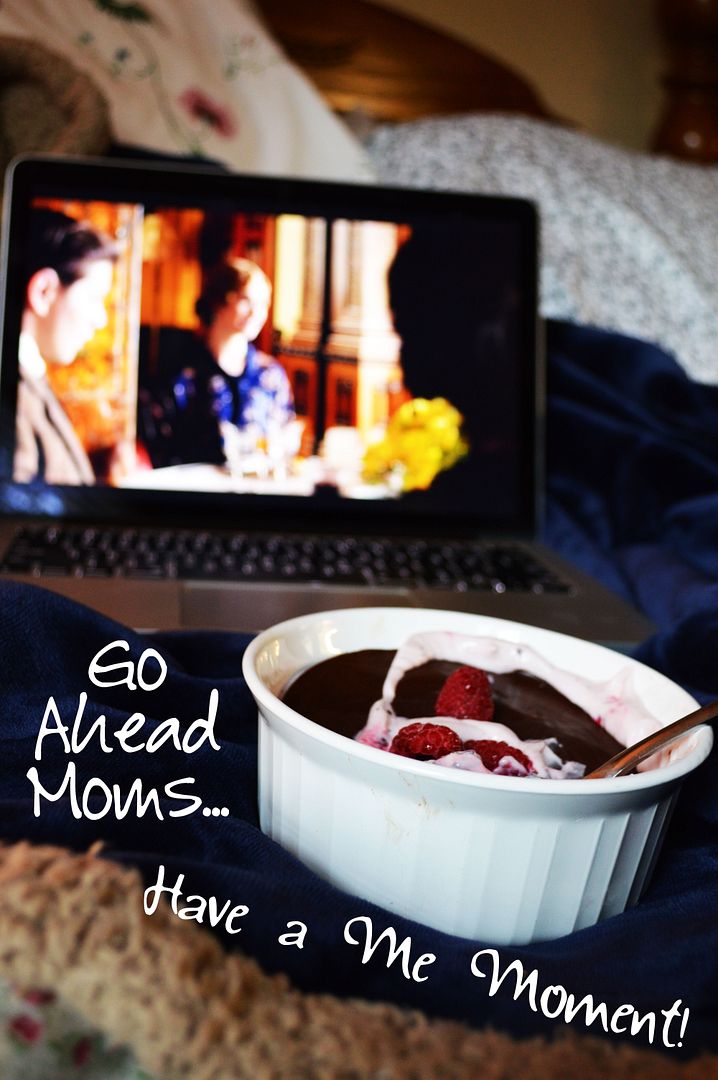 Having "Me Moments" is Crucial to Being a Good Mom–Here's Why!
As a work from home mom my life is full of this…